Idaho Fish Report
Another good morning on the Clearwater River in Idaho!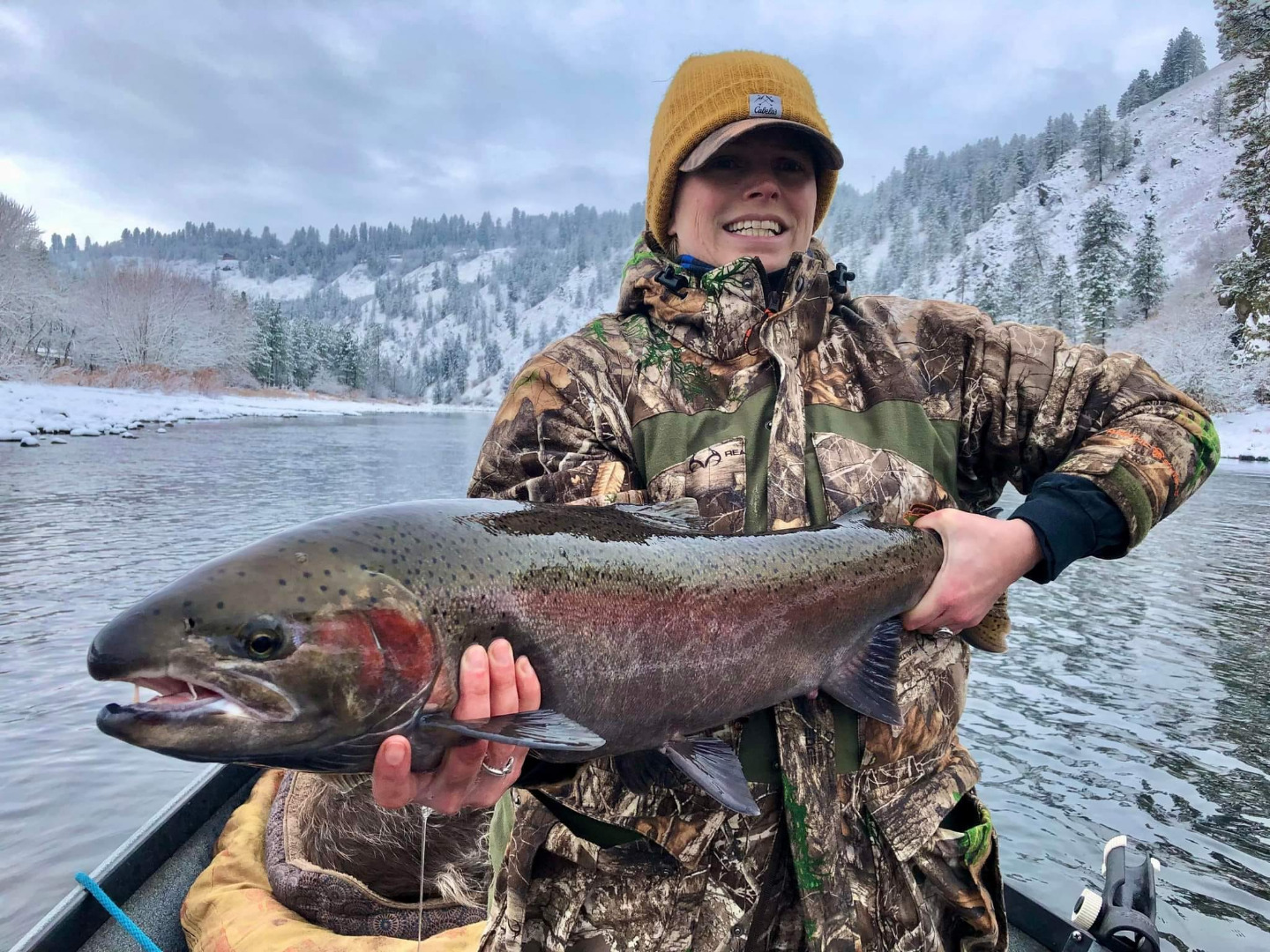 Photo Credit: Clearwater Steelhead Salmon Smallmouth/ Eric Wilcox, fishing guide for Swiftwater Outfitters
by Eric Wilcox
12-21-2022

Another good morning on the Clearwater River in Idaho! Lacy and I went out for a bit of Steelhead fishing yesterday morning. When we woke up to 33° at our house and the rest of the country in the grips of a cold spell we snickered about it and slid the 'ol drift boat in the water. The water temperature had dropped about a degree and a half overnight and we found the fish to be less than willing to eat a side drift presentation. After about a half a dozen passes through one of our favorite neighborhood runs we pulled back up and set anchor and put out plugs baited with shrimp. It wasn't very long after beginning to take strokes with the oars that the first take down happened! We had three solid takes before we had gone a hundred feet. Here is a lovely specimen of what we've been catching here lately on the Clearwater River in Idaho for winter steelhead. Sitting around or below a thousand feet in sea level on the valley floor we are in a relatively protected area with mild weather. Something to remember when you are experiencing cabin fever and would love to get out and do something outside. We are closer than you might think for driving distance and have a river full of steelhead in excellent condition this winter. This year's class of fish stands alone. The numbers of steelhead in the river haven't been this good in over a decade and it shows! If you would like to take advantage of this winter and soon coming spring steelhead fishing with Swiftwater Outfitters on the Clearwater River in Idaho, message for prices and availability and let's get you booked on the calendar. Dates are filling up as we are currently taking bookings and don't forget these trips make a wonderful Christmas present!
Eric Wilcox is a guide for Swiftwater Outfitters if you would like to go fishing with him contact him at Clearwater Steelhead Salmon Smallmouth Send Message